Play the game and test your knowledge!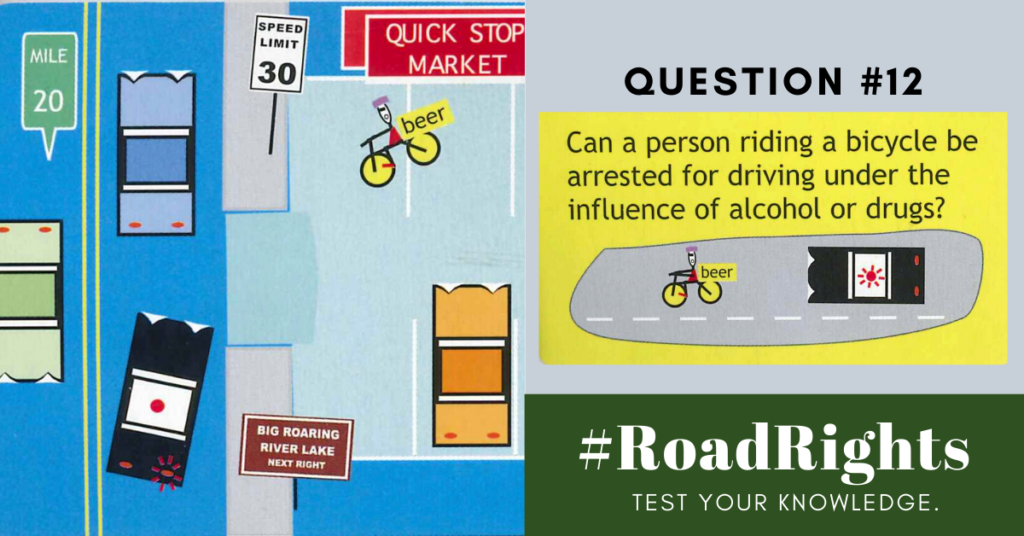 The Question:
Can a person riding a bicycle be arrested for driving under the influence of alcohol or drugs?
The Answer: No, BUT
There is no state statute that condemns operating a bicycle under the influence of intoxicants. However, most towns/cities have an ordinance regarding public intoxication. In some communities, this ordinance can be used to arrest a bicyclist operating a bicycle on a public roadway under the influence of alcohol and/or drugs.
While there is no state statute, be mindful of ordinances in your town/city and always be safe.
---
Play weekly to test your safety know-how!
Each week on social media we will post a picture of a traffic scenario and a corresponding question to test your knowledge. The answer will reflect what Idaho law says about the scenario. How well do YOU know your Road Rights?
Comment and share your answer on the following platforms:
Please consider helping us grow the reach of this game and this message by commenting, sharing and encouraging others to play. Thank you!